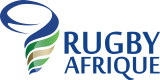 Multimedia content

Videos

(1)

French Rugby Federation President Welcomes Rugby Africa President to Paris for Discussions
Source: Rugby Africa |
B-roll Video Release: French Rugby Federation President Welcomes Rugby Africa President to Paris for Discussions on a New Era of Partnership
The video below is copyright free and can be used at will, without asking for authorization
PARIS, France, August 21, 2023/APO Group/ --
Today, during his official visit to France, Herbert Mensah, the new President of Rugby Africa (www.RugbyAfrique.com), the continental governing body for rugby in Africa, held a meeting with Florian Grill, the recently elected President of the French Rugby Federation (FFR). The meeting represents a significant stride in fortifying the bond between the two organizations, both of which have elected new Presidents just a few months ago. President Grill welcomed President Mensah to the FFR Headquarters at the France National Rugby Center Bernard Lapasset in Marcoussis, located near Paris.
Access the B-roll and dope sheet: https://apo-opa.info/3YIhtA0
Read the full press release: https://apo-opa.info/44mMVVE
Distributed by APO Group on behalf of Rugby Africa.
Copyright-free video B-roll, video and audio interviews in English and French, images, and audio files are available for the media to download and can be freely used without requiring authorization:: https://apo-opa.info/3P5wyIP
Media contact:
Nicole Vervelde
Communications Advisor to the President of Rugby Africa
rugby@apo-opa.com
About Rugby Africa:
Rugby Africa (www.RugbyAfrique.com) is the governing body of rugby in Africa and one of the regional associations under World Rugby. It unites all African countries that play rugby union, rugby sevens, and women's rugby. Rugby Africa organizes various competitions, including the qualifying tournaments for the Rugby World Cup and the Africa Sevens, a qualifying competition for the Olympic Games. With 39 member unions, Rugby Africa is dedicated to promoting and developing rugby across the continent.